Monday Night Bingo! Woo Hoo!
Progressive Jackpot BINGO!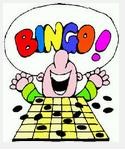 10 Regular Bingo Games
1 Progressive Jackpot Bingo Game
1st call at 6:00. All bingo players are welcome to play, non-members are graciously invited.
Food available before bingo, menu varies.
TEXAS HOLD'EM
Every Tuesday
2nd & 4th Friday's
---
Upcoming Events:
Saturday April 13th, Craft and Bake Sale
Anyone interested in a table to sell items contact Kelly Smith, yllek86@aol.com
or Sign up at the club
---
Sunday Funday Raffle
Proceeds go to "TRANSFORMING THE BACK ROOM"
Sunday Funday Committee
Hello folks,
We have re-named the Appreciation day committee
to Sunday Funday Committee, even with the name
change we are still planning on having fun in the
near future. To start with I want to let you know we
will be raffling off an item every Sunday on a $1 top
board as this helps build the kitty fund, this will help
pay for future projects and fun activities. If you
would like to donate a nice raffle item just drop it
off to Patty or Kathy. One of the future planned pro-
jects, that we will be taking volunteers for, is to help
with our version of Extreme weekend Makeover.
We will be transforming the back room into a very
attractive and functional multipurpose room where
meetings, weddings, card games and much more
can happen. We hope to add a new bar, a karaoke
station, back drop, and new painting and lighting.
We hope to get volunteers to help with all the new
renovations. We will, of course, be supplying food
and refreshments and a few door prizes for the
hardworking crew.
Details on this will be forth coming with a sign up
sheet.
Remember our motto: Working Together to Make
our Club Better.
Please see Mikey Stoeffler or Kathy Mulholland with
Questions